TAKE PROFIT NOW- THIS CRYPTO 'ECO BUBBLE' COULD BE A SIGN OF THE MASSIVE BUBBLE TO COME.
ECO BUBBLE
While Bitcoin Maximalists, and ALT Coin crusaders are beating the drums to 'Take us to the moon', during this recent pump, I fear from experience, that this could be the Eco Bubble.
An eco-bubble refers to a situation in which the market experiences rapid growth and high valuations due to an increased focus on some recent news/developments, or as it's commonly known, some FUD, blended with some FOMO. Either way, it collapses due to unrealistic expectations or a lack of fundamentals supporting the growth. I wonder what that could have been.
In the last 15 days, we've seen Bitcoin jump from 16k to 21k, and some Alt Coins giving 200% returns ( thank you very much ), with no sign of a Bottom ( according to virginal crypto hype traders ).
But as experienced Traders, we're calling this as we see it' The Eco Bubble.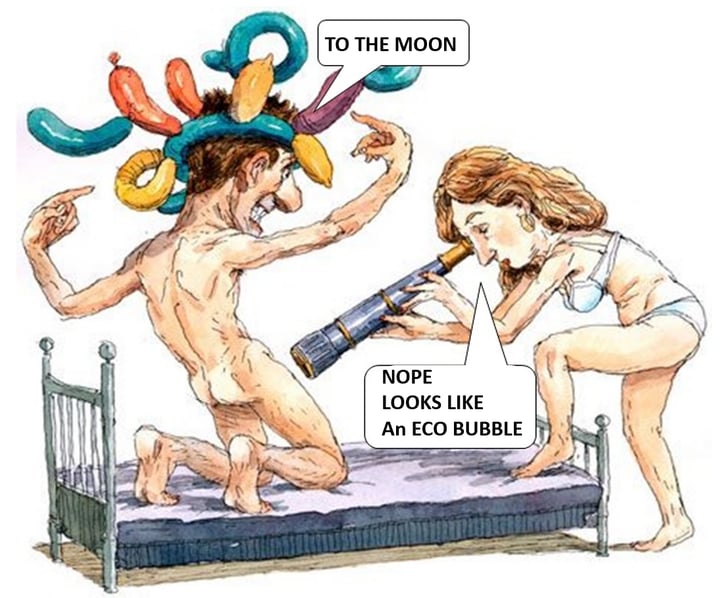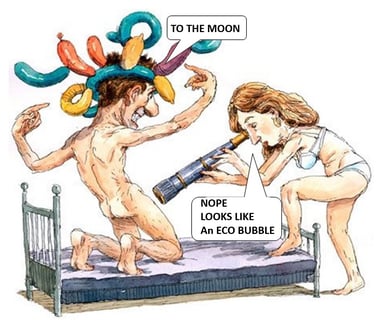 Examples of Historical Eco Bubbles before the big Bubble Burst
Stock Market Crash of 1929, in which stock prices soared to unsustainable levels before plummeting, causing widespread panic and financial ruin for many investors.

The dot-com bubble of the late 1990s and early 2000s, in which the stock prices of many internet-based companies soared to unsustainable levels before plummeting, causing significant financial losses for investors.

The US Housing Bubble of the mid-2000s, in which housing prices soared to unsustainable levels before crashing, causing widespread financial ruin for homeowners and leading to the global financial crisis of 2008-2009.

So, have an exit strategy: Have a plan for when to sell your crypto ( or whatever assets you're trading ), so you don't get caught holding the bag when the bubble bursts. It's also important to remember that while bubbles can be dangerous, they can also present opportunities for savvy investors.

Being well-informed and having a good understanding of the market can help you to identify and take advantage of these opportunities. So DYOR